PSP

Release name: Pro_Evolution_Soccer_2012_EUR_MULTi2_PSP-ABSTRAKT
Size : 1122MB
Region: EUROPE
Publisher: Konami
Developer: Winning Eleven Productions
Release Date: 02.11.2011
Genre: Sports
Language:
More Info: IGN - Gamespot
NFO: Here
Torrent (Search) : NTi | TPB | iSO
NZB (Search) : Binsearch - NZBIndex
or MULTi4 (
) : Pro_Evolution_Soccer_2012_EUR_MULTi4_READNFO_PSP-BAHAMUT
Pro Evolution Soccer makes its return this fall, Pro Evolution Soccer 2012! This year, Konami is determined to give global football fans a truly realistic, immersive and a delightfully playable take on the beautiful game. Creative Producer Shingo "Seabass" Takatsuka has been sourcing the desires of fans across the globe and working non-stop on marrying the digital game to the real life game so fans can get as close to the real thing. All elements have been examined - defense, offense, AI, penalties, officiating and of course, graphics! The result is a game truly represents the key attributes of the game and it's players. Pro Evolution Soccer… "Can you play?"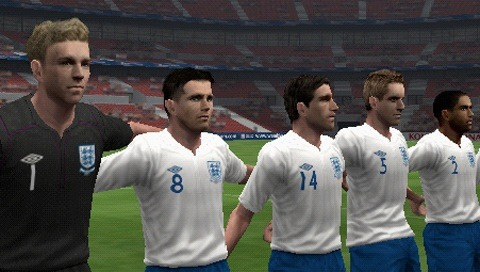 Features :
Attacking play is improved - Take control of an additional teammate to boost the potency of your attack!
Teammate AI has become more true to life on defense and offense - Your team plays more cohesively
New Off-the-ball-controls - Take even more control in dead-ball situations to manage your team strategy
Zonal marking and positional defending are massively enhanced - Players are forced to work harder to split defenders
Collision detection is overhauled - The physicality of top-level soccer is captured
Graphics are updated again -Movements, facial representations and pitches have built upon last year's massive improvements